PERFORMANCE
DEVELOPED IN THE LAB AND TESTED IN THE FIELD FOR PERFORMANCE
WHERE IT COUNTS
Workability Retention
Rheo-Shield maintains slump significantly longer than standard concrete mixtures. This slump retention is achieved without affecting rate of hardening or early age compressive strength development.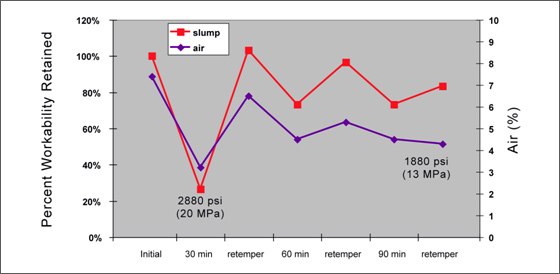 Figure 1 shows the conventional way of retempering with water and its impact on workability, air content and 1-day compressive strength. As workability decreases so does the air content. The addition of water increases workability and air content. However, the initial retempering results in a 32% decrease in compressive strength. Additional retempering through 90 minutes reduced air content and further diminished concrete compressive strength (note that ASTM C 94 only allows a one time addition of water). Retempering is one of the primary causes of concrete inconsistency.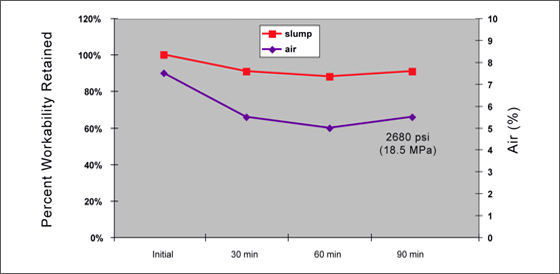 Figure 2 shows the same concrete mixture and the impact of Rheo-Shield on workability, air content and 1-day compressive strength. With Rheo-Shield, concrete performance is more consistent, making the concrete producer and contractor more efficient.
Absorption
Rheo-Shield was developed with an integral admixture blend to drastically reduce absorption and water penetration. The concrete performs comparable to sealed concrete and water will bead on the surface. Rheo-Shield reduces water penetration and increases the long-term durability and service life of the pavement without the need for sealing in 28 days.
Crack Reduction
Rheo-Shield incorporates Buckeye UltraFiber 500® fiber reinforcement to reduce cracking. When tested in accordance with ICC code requirements, UltraFiber 500® in concrete results in 85% fewer cracks than concrete without fiber.